How to Prepare for a Hybrid Annual General Meeting
July 19, 2022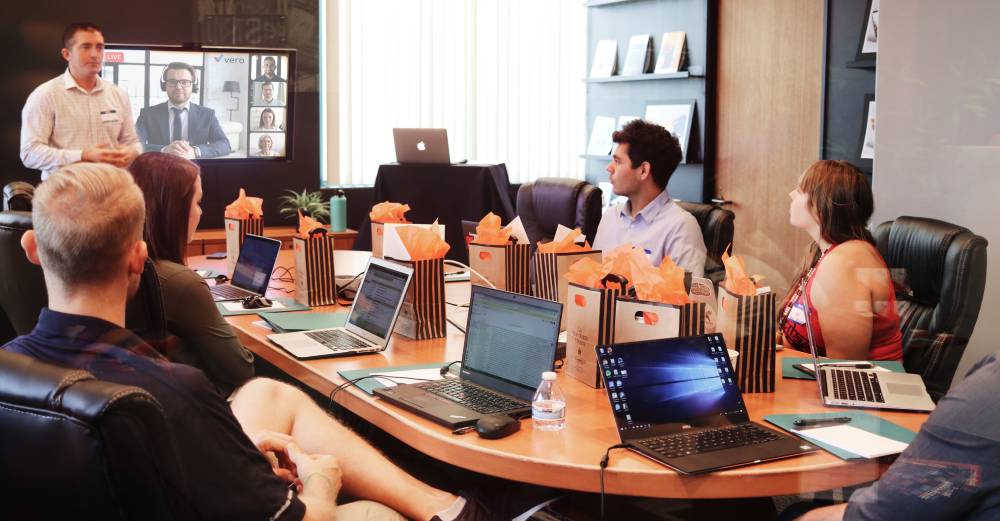 The global pandemic brought forth the rise of digital collaboration and virtual meetings, allowing people to perform their tasks from the comfort of home. Now, as the situation neutralises and a new normal gets established, some are choosing to go back to the office. As such, many organisations have sought a new working model to cater to both these preferences, ensuring the effectiveness of their meetings and business operations.
The hybrid meeting format combines the best of both worlds by accommodating both onsite attendees and remote participants. Hybrid annual general meetings, especially, are proving to be necessary in keeping up with the increasing demand for more flexible meeting arrangements, allowing for the continued communication between organisation members and the board.
What are the advantages of hybrid meetings?
With hybrid meetings, shareholders and members can participate either online or onsite. This is extremely favourable especially for those who find it inconvenient to go to the meeting venue for various reasons. As long as the organisation's constitution permits virtual meetings, going for a hybrid setup is a great option.
A hybrid AGM is also easier to arrange, as it requires less physical space and involves reduced travel considerations for the participants.
6 Best practices for a successful Hybrid AGM
Organisations must prepare adequately before conducting a hybrid AGM for it to be effective. Indeed, the status quo of a meeting room from March 2020 is quite different from that of 2022. Revising the meeting rules of the organisation is important in ensuring there won't be any clash or problems during the meeting proper.
1. Ensure compliance with laws and regulations
Before anything else, the organisation must first ensure observance of the laws, policies and guidelines for private and public sectors in regards to AGMs. Review and check the regulations so that there is no doubt the AGM and its results are legal and compliant and that the members'  rights are protected in full.
2. Apply specific requirements to hold virtual-only or hybrid meetings
The Corporations Act specifies particular requirements that entities must comply with if they convene and hold meetings using virtual technology.
Broadly, for all meetings, entities are required to ensure that they give members entitled to attend the meeting, as a whole, a reasonable opportunity to participate in the meeting. This includes, among other things, holding the meeting at a reasonable time and ensuring any virtual technology, if used, is reasonable.
A. Do I need to ensure that members are able to make comments and ask questions in a particular way at a virtual-only or hybrid meeting?
Yes. Where virtual meeting technology is used, members at the meeting, as a whole, must be able to exercise any rights they have to ask questions or make comments orally or in writing.
This means where members generally have a right to ask questions or make comments, the option to put these both orally or in writing at the meeting must be available – see section 249S(7)(b) and section 252Q(7)(b).
This would include rights such as those members have at a company's AGM to ask questions and make comments on the management of the company or (if applicable) the remuneration report or to ask questions of the company's auditor – see section 250S, section 250SA and section 250T.
See more FAQs for virtual meetings by ASIC
B. Do I need to let members attending via virtual technology vote at the meeting?
Members, as a whole, at a hybrid or virtual-only meeting must be given a reasonable opportunity to participate and, in this context, it is a requirement that the virtual meeting technology that is used to hold a hybrid or virtual-only meeting is reasonable. The technology, or mix of technologies, used to facilitate virtual attendance would need to be sufficient to allow members to vote – see paragraph 1.92 of the Explanatory Memorandum.
These requirements apply to all virtual-only meetings, irrespective of whether the meeting is held in reliance on express provisions in the entity's constitution or ASIC's relief.
You should seek legal advice if you are unsure of these requirements. Paragraphs 1.81–1.97 in the Explanatory Memorandum may also help entities to interpret these requirements.
Learn more about ASIC's Corporation Act update on virtual meetings for companies and registered schemes held between 1 April and 30 June 2022
3. Set the agenda in advance
Having a straightforward agenda prevents the meeting from running out of hand. With the content framework, everyone gets a clear idea of what to expect of the program items, and there is a set schedule for discussions.
4. Circulate a written notice
Organisations are required to conduct their AGM at least once every financial year. This is to ensure that the board members and shareholders are on the same page and are updated on what has been happening with the organisation for the past year. They are also kept apprised of the results of the decisions made the previous year and should be aligned on what the course of action for the next year would be.
Given how critical the AGM is in discussing the organisation's present status and future dealings, the participation of the shareholders is of great importance. As such, all shareholders must receive a written notice at least 21 days prior to the AGM. This notice must include details such as the time, date, venue and agenda, as well as matters regarding proxies, resolutions and copies of documents pertinent to the meeting. The 21-day period is to give the shareholders enough time to clear their schedules, appoint their proxies and review the resolutions for the AGM.
5. Double-check your hardware and software
Par for the course in hybrid meetings is the need for a stable internet connection so that there will be no delays in the transmissions. But that's not all. Ensure all equipment, from the webcams to the headsets, are working properly for crisp images and clear audio.
6. Choose a trusted hybrid meeting platform
The overall success of hybrid annual meetings relies heavily on the online platform wherein it is hosted. Choosing the most suitable online meeting solution helps significantly in making hybrid meetings easier to manage and conduct.
The Corporations Act does not specify the use of any particular virtual meeting technology. It requires that whatever technology is used is reasonable and ensures members as a whole have a reasonable opportunity to participate. The technology, or mix of technologies, used to facilitate virtual attendance would need to be sufficient to allow members to vote.
Read use of technology for meetings and execution of documents
Here are some factors to consider when it comes to choosing a technology for hybrid or virtual meetings:
Customisable features
Organisations have different needs, so choose a platform that can accommodate these needs. The flexibility of a platform will allow it to meet the organisation's requirements, whether it be for simple polls or for more complex voting processes.
Dependable security
The best online meeting solutions ensure the security of the AGM and protect the privacy of the participants. Your chosen provider must have top-notch security to keep your data safe and secure, without compromising the speed of access.
Accessibility and support
Your hybrid AGM software should be intuitive and accessible regardless of the participant's location. Choose a platform that is compatible with various devices, featuring a nice, simple and easy-to-navigate interface for better user experience. Technical support should also be readily available to help resolve issues promptly should they arise.
To learn more about efficient meeting and voting solutions, email us at info@verovoting.com.au or get a quote here.
Hybrid Annual General Meeting. Hybrid Annual General Meeting