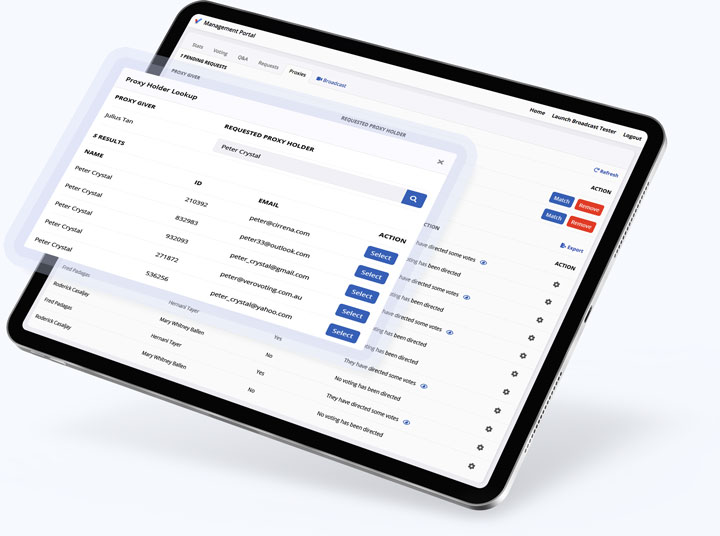 What is Proxy Management?
The term proxy refers to asking another member to vote on your behalf. A proxy vote is a ballot cast by one person or firm for a company's shareholder meeting. The designated proxy will cast a proxy vote in line with the shareholder's directions.
Most organisations satisfy the proxy requirements by sending out the proxy ballot to their members and requesting the forms to be sent through either via email or post. At times, this manual process is prone to errors, that leads to cost more time and effort.
At Vero Voting, we created a system that can simplify management that made it more accessible to board members by taking the whole process online. This would enable voters to register, add their proxy and lodge their votes.

How to Take Your Proxy Voting Process Online
Add proxy in 4 steps through our easy-to-use voting management portal
1
Vero
Prepares formal documentation for assistance with voting. Distribute unique logins for each member.
2
Voting Member
Register login information on Vero. Then, select if they can or cannot attend the meeting.
3
Voting Member
If they cannot attend, the member will be forwarded to the proxy form where they can choose to appoint the chair or enter a proxy name. They will then have the voting decision if they wish to "direct" the appointed proxy holder to vote a certain way.
4
Vero
Produce the voting results in real-time and apply all the proxy voting rules which includes weighting, share classifications, and voter rights automatically.