Voting for your Video Conferencing Software of choice
July 27, 2021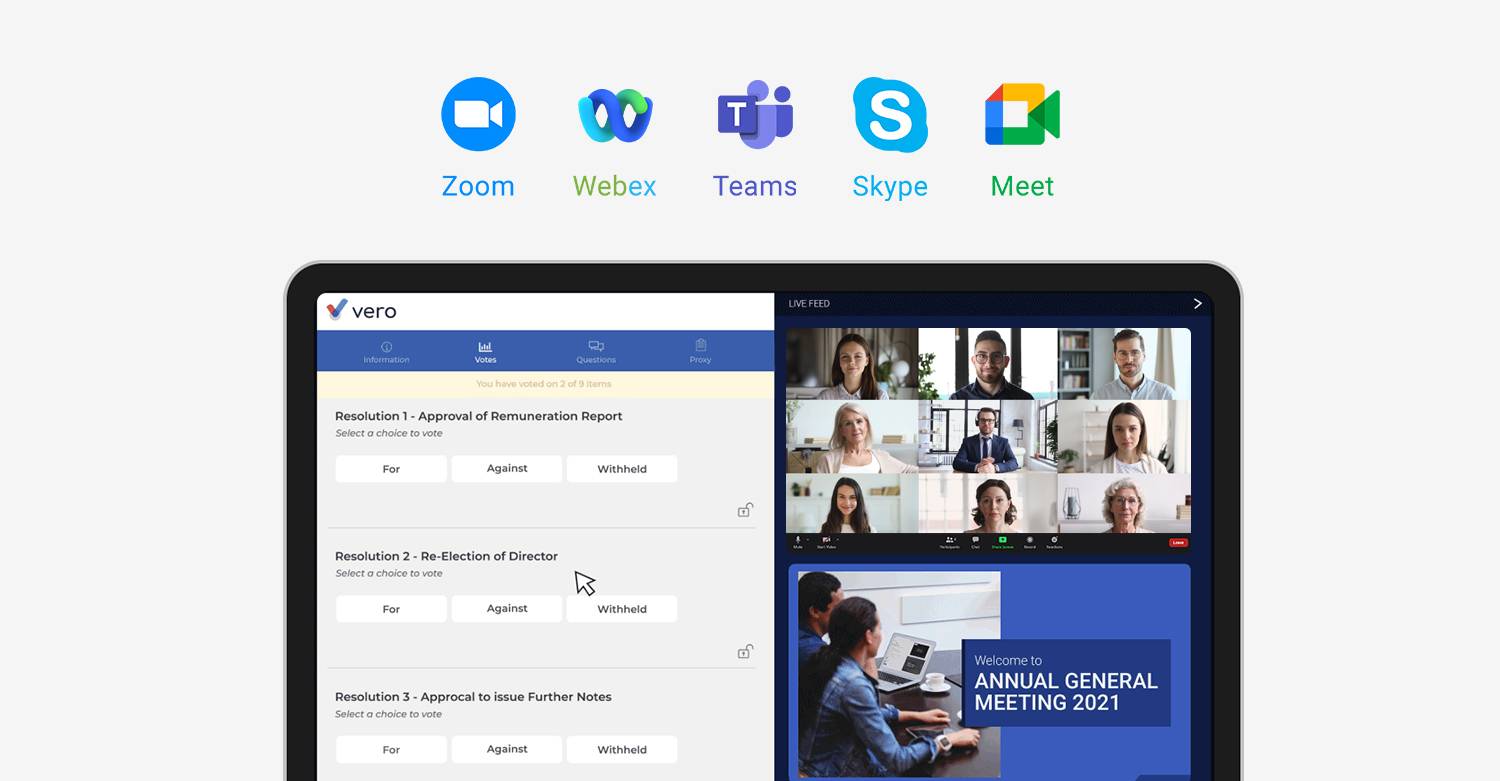 Video Conferencing Software
With the global pandemic situation, most in-person events and conferences in business locations are not allowed. As an alternative, organisations started using video conferencing softwares such as Teams, WebEx or Zoom. But with annual general meetings, there are constitutional governance requirements for organisations such as quorum/attendance management, proxy voting management, and other statutory requirements.
Using two different softwares to run one meeting can be complicated, less efficient and lacks security features especially when you're conducting an important event. That involves sending communication emails twice, managing attendance and submitting proxies. Requiring members to use two systems for a meeting can cause inconvenience and lessen their interest to participate.
To provide a seamless experience for organisations and its members, having an integrated solution and service that can do virtual meetings with a voting system will streamline the process.
What meeting softwares can we integrate to the Vero Voting system?
Our system can easily integrate web conferencing apps such as Zoom, Teams, WebEx and other conferencing software to the Vero voting platform.
How to conduct online voting  with your preferred meeting software?
Vero Voting can take care of the communication and making the event announcement and invites seamlessly. The organisation only needs a list of email addresses and names of the candidates, and we will upload it to our system and do the rest. This includes sending email with all the information required for the meeting and tracking the attendance of the voters. All communication comes from one source removing the chances of confusion.
All voting members will receive an email, provided the meeting link with their unique log in to our voting management system. Through the platform, they can choose whether they are not attending or not, and an option of filling in a proxy form. Once they are in, they can review all the documentation for the event, ask questions before the meeting, and even assign a proxy.
Beyond other considerations, all the members are only interacting with one platform and service team. Using one platform that can do both meeting management and voting solutions is more efficient and increases voter engagement.
How does it work with a third-party voting provider?
Vero can set up the voting system and integrate your choice of conferencing software to our platform that is customised to your requirements.  All you have to do is provide us the meeting details and voter list. The service includes:
Together with our cutting-edge voting software and years of expertise, you can count on our team to deliver comprehensive solutions.
Ready to get started? Contact our team and see how we can help you with your voting requirements.