Benefits of Online Voting
February 11, 2021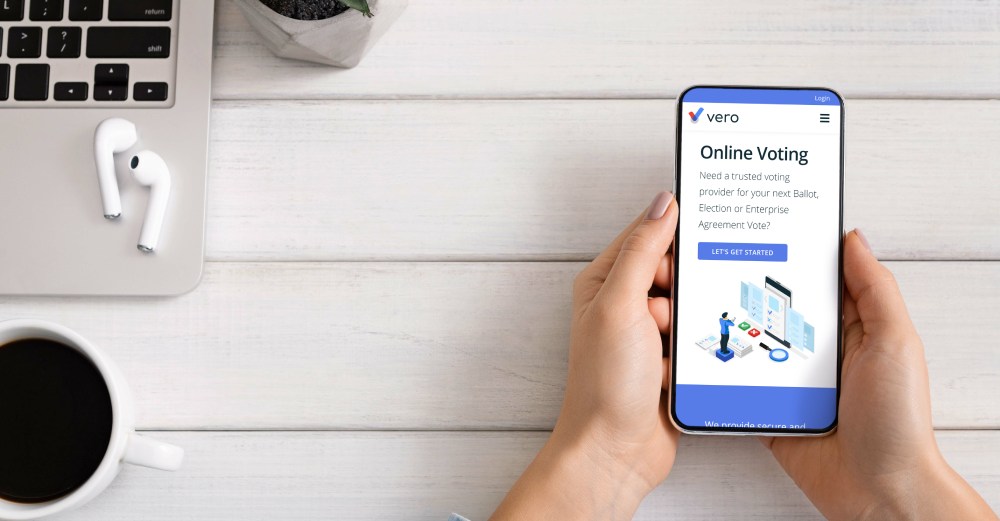 online voting
Electronic and internet voting has many advantages over the traditional voting methods. More than just convenience, here are some key reasons why it is so effective and efficient.
1. Accessibility
Casting votes online increases accessibility to a distributed member base and is proven to provide a higher participation rate. The convenience of having no ballot to mail or meeting to attend coupled with multiple channel options gives your members the ability to participate and cast their vote no matter where they are.
2. Votes are protected
The streamlined platform and processes of Vero Voting is tested to make sure that only members that are accredited are allowed to participate in the vote. The electronic voting process also ensures that the guidelines, constitution and governing laws of the traditional voting process are implemented and enforced.
This is all made possible via the Vero voting platform which is built with cutting-edge technology that satisfies all levels of online voting services. The user interface is as simple and secure and is a one-click solution to cast your vote. All this is done in a real-time secure confidential voting system.
3. Audit trail
Vero Voting system for ballot and election audit processes is capable of meeting the most stringent probity requirements. It is also customisable to suit the requirements of organisations from different industries. Everything to do with setting up the voting process to casting the vote is recorded and can be used to satisfy any audit requirements.
4. Eases vote management
Vero Voting system eases the tedious voting process and gives pleasant experience for both voters and administrators.
For voting members, they can simply cast their votes by following the link access to their assigned online voting portal. Vero Voting will provide unique logins for each voter and distribute it.
For administrators, the management portal is easy to use to make setting up and running events seamless specially for virtual or hybrid meetings like AGM.
5. Saves you time and Money
Traditional paper voting needs to supply paper ballots, postage and printing. Plus it requires extra manpower for counting votes through show of hands.
Conducting electronic votes significantly increases the reduction in implementation costs and efficiency of election management. It brings accurate and instant results with precision.
Do you need help in running your next ballot, elections, enterprise agreements or voting on resolutions? Send us an email to get started.