A Guideline On How To Run AGM Online Seamlessly
August 12, 2020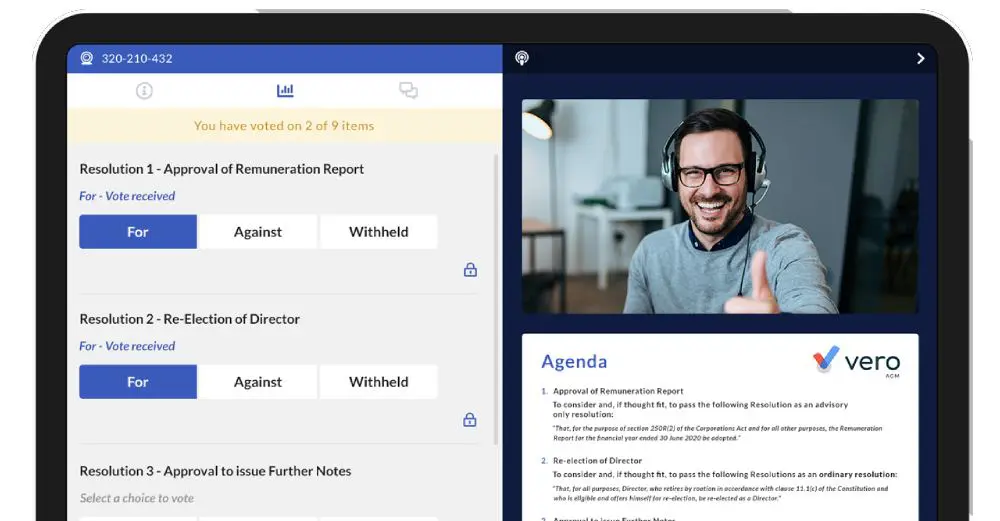 Holding events online such as annual general meetings (AGM) has become a trend this year. One key factor of running a successful online event is having a third-party software provider on where to host the event.
Vero hosted hundreds of virtual meetings and online real-time voting. This AGM meeting guideline will help you run and hold your annual general meeting seamlessly.
Meeting Preparation
Prepare the documents and information about the AGM event couple of weeks before the event.
Get access from the software provider and start setting up the documents, event schedule, agenda with a timeline, and other items required.
Set a meeting for a demo on how to use the software with your AGM provider. Take note of the features that allow you to monitor and respond to queries quickly. Having knowledge of operating the system saves time to get things done.
Send the invitations a week before the event. The management portal will show you the number of attendees and their classifications. Vero has a feature that voters have an option for proxy voting and management for attending members.
If you want to do Q&A during the program, assign another meeting manager before conducting the online AGM. The manager has the control to select questions and topics they can publish to all attending shareholders.
Practice running through your script using the software several times ahead of the meeting. Share the script with relevant members to ensure it fits the virtual format. Learn more best practices on how to prepare for AGMs.
Please ensure you have a reliable internet connection or your laptop and communication devices. Better to have a back-up data connection like a hotspot or portable WiFi.
During the Annual General Meeting
Set up at least an hour before the meeting. This will give you enough time to arrange your desk and log-in securely to the meeting software.
For web conferencing or events, we recommend having at least 3 meeting managers: one event moderator or host, one in charge of running the presentation slides and meeting resolutions, and one managing the Q&A.
Vero can assist you in showing a welcome message to shareholders to let them know they are in the right event. If there are tech difficulties, we are available all throughout your event.
Make sure all the mobile devices are turned off. Not just for unexpected calls but also helps to put your focus on the meeting.
Before starting the meeting, ensure that you've reached the target quorum as required by the board legally. Vero AGM's dashboard also provides a real-time count of attendees, voters, active members in the event.
To start LIVE video streaming, simply click on the video icon on the dashboard and it will redirect you to another window showing you the video and audio stream screen. Once you're ready, you can start broadcasting and instantly begin sharing your live stream to your attendees. To ensure that your online live streaming is running smoothly without video lags, Vero uses the fastest broadcast software with sub-second latency to audiences of any size, allowing true real-time delivery to all devices.
Formally start the event the same as you would on physical meetings. It is recommended to have 3 meeting managers to make it run smoothly.
Take short breaks between each agenda in the program flow. Allow natural pacing to those listening and watching the meeting.
Follow the program exactly with the set time schedule. Some meeting attendees may log in for a specific agenda item, so make sure you don't deviate from the agreed program flow.
Give clear instructions on how the members can ask questions and vote. This helps maximise engagement and so that everyone can have their voice.
Planning to run your next AGM meeting online? Get started!