Advantages of SMS Voting
September 25, 2019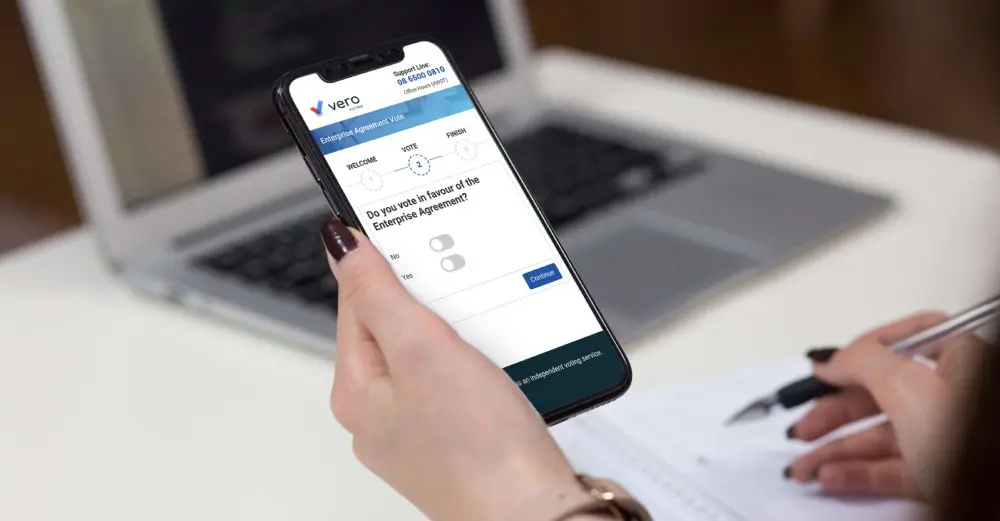 According to the recent Mobile Consumer Survey (Deloitte), SMS voting is by far the simplest, easiest and an extremely secure method of all the voting channels, needing only a mobile connection and your members can vote by simply replying to an SMS. Here's how Vero's  SMS voting can help your organization.
With Internet access now being accessible from nearly any device, online is the default voting channel which means a vote can be run from a desktop computer or the mobile phone via the internet browser.
But what happens if you don't have a stable internet connection? For example, on an oil rig in the middle of the ocean; this means that phone is a perfect alternative. As long as you can make a phone call, your members can vote by dialling a 1300 number and following the voice prompts.
With all these possibilities, when you consider running your vote, whether it be for an enterprise agreement, secret ballot or even a electoral election, choosing the best voting channel for your members is an important decision.
So how does SMS Voting Work?
When the voting opens, each voter is sent an SMS to their registered personal mobile number from Vero Voting. Contained within the SMS is the Question that needs to be answered, for example:
"Do you vote in favour of the Enterprise agreement…?"
"Reply Yes or No"
The voter simply has to reply with their answer to the question and a receipt will confirm that their vote has been lodged. If they have already voted or sent an invalid response, they will be informed that their response is not valid.
It's a simple and a really quick way to run a vote. Most voters have their mobile phone on them and know how to reply to SMS's. We have seen workforce votes of 400 or more completed within an hour due to the ease of voting via SMS.
Is SMS Voting Secure?
The short answer is YES. It's very secure. If required, we can add an additional layer of security called 2FA (Two Factor Authentication) where the second level of authentication is sent via a separate source to validate that the voter is the right person.
The SMS is sent directly to the Personal Mobile device of the voter. This device is often always kept in close proximity or on their person at all times. To unlock the device, most voters will have some level of biometrics (face or fingerprint) or unlock code to gain access to the device.
This is the very reason why banks use an SMS code to verify banking transactions.
With 2 factor authentication turned on, a separate verification code is sent via email to the voter. This means that the vote has to use this CODE when replying to the SMS voting question. If this code doesn't match, then the vote is not accepted. This adds an extra level of security, albeit a little more cumbersome for the voter, but makes your voting process extremely secure.
It is highly recommended that you consider SMS Voting for your next Election, Enterprise Agreement or secret Ballot. Feel free to contact us for more information.