Why use an online ballot service provider?
January 6, 2021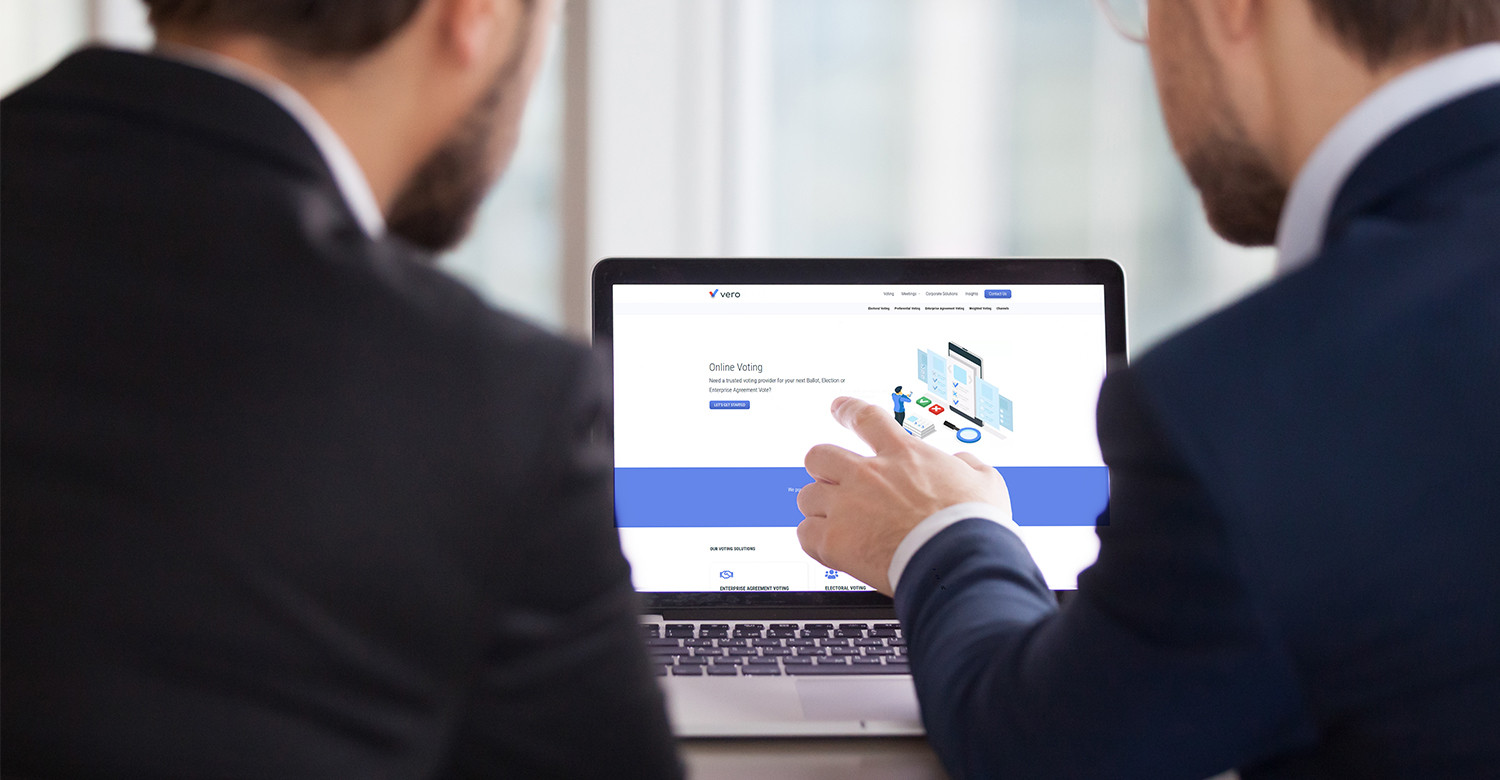 Partnering with the right online voting provider can make the election process run seamlessly and efficiently. The essential requirement to be mindful about is to find a trusted ballot service platform that is independent, secure and has a proven experience holding elections and can provide instant results with transparency.
Vero Voting conducts protected action ballots as an independent ballot agent that complies with Fair Work Regulations. We run elections for small to big businesses in Australia – specialising in legal annual meetings for corporations, election for private organisations, and enterprise agreements and protected ballots.
Here are 6 reasons to use online ballot service provider:
1. Transparency
In order to make the ballot process seamless and transparent, having a neutral ballot service provider is key. For business elections, it's important that the results are accepted by shareholders. Having an election service provider will give results and validate the tally of ballots with accuracy, efficiency, and also be impartial to the outcome.
2. Trusted and Secure
Recognised providers can make sure all voting methods are safe and secure. Security is especially important when it comes to voting online.  Your ballot services provider should have an online voting platform that has the required level of security such as access authentication (2-factor authentication, if required) and vote transmission encryption. The voting details of your members should be safe at all times.
Our platform is focused on efficiency and transparency which allows voters to cast their ballots independently and real-time. All voter and member details are dealt with as per the Data Protection Principles which are set out in the General Data Protection Regulation and the Company's Data Protection policy.
3. Customisable Platform
A provider that can allow you to customise step-by-step processes according to your company requirements. They also are adaptable to changes that could be applied by request, such as candidate voting peculiarities.
Vero Voting's cutting-edge technology has a secure and anonymous service that is customisable to suit your business requirements.
4. Accessibility
Being able to increase members' participation in submitting their votes has something to do with convenience. To encourage them to vote, having a platform that has easy-access features and multiple channels for casting their votes makes it attainable.
You can reach more members by using an online ballot service provider that has a multi-channel voting system. Where they can choose their preferred voting method such as online, SMS, or phone.
5. On Time
An election service provider will ensure that your election is on time and on track.  Before your election starts, they will produce a timetable which will outline all the stages of your election.
With Vero, we can help you all throughout the process and get 24/7 support and assistance for any level for our voting solutions.
6. Voting Management
Choose an independent voting management platform that can easily manage client's requirements and the ballot service professionally. With their help, you can manage election day for both online and in-person and get real-time results on the same day.
A provider that has worked with known organisations in different industries is a good indicator that they have provided an excellent service that you can trust. Definitely holding your organisation's election with a third-party provider is a win.
Planning to run elections for your organisation? Contact us to get started.